A vision to see a church full of
Developed
Empowered
Inspired People
who are Blessed
by the Love of Jesus Christ
A vision to see a church full of
Developed
Empowered
Inspired People
who are Blessed
by the Love of Jesus Christ
Coming to TFCC has been an amazing, life changing experience.
Denea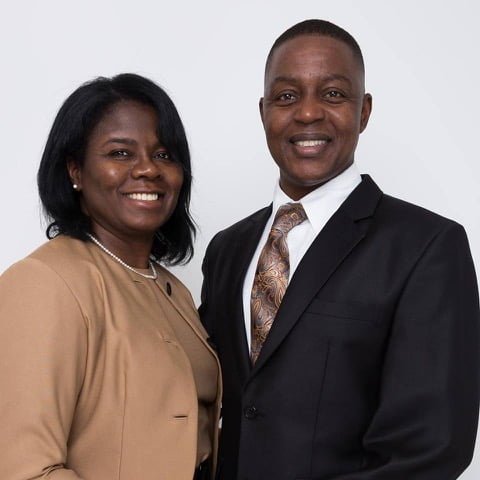 Pastors Charlie and Kathy Bryant
Charlie Bryant has served in the Army Signal Corps for over 28 years. He has pastored Culpepper Christan Servicemen's Center in Yongsan, Korea, He has a heart of compassion and anointed preaching. Kathy Bryant has served alongside Charlie for over 28 years She has a passion for Evangelism, Outreach, and Pastor Kathy is passionate about using God's word to nurture strong families to love God with all their heart, mind, soul and strength. They both have a passion to care for all of Gods people.
Minister Antonio and Sister Rochelle Turner
Are the proud parents of six children: Taylor, Davaunte, Nakya, Mariah, Morgan and Jeremiah.
They have a combined total of 36 years of Military service. The Turners are involved in various ministries; Sunday school teachers, Youth Leaders, Women's and Men's ministry and Bible Study Leaders. Their ultimate goal is to honor God, serve His people, and strive to live a righteous life that Jesus Christ died for us to have. They believe that the church should be a place where all ethnicities can come together, learn about the Bible, encourage one another, grow in your faith, and praise the King of Kings.
Military, Veterans, DOD personnel and their families
and the Greater Augusta Area
We invite you to join us as we worship God in spirit, mind and truth.
Men's Ministry
A place for real men to connect, sharpen each other, grow in God's Word and fellowship (with Monthly Fellowship meetings, outreach and breakfast).
Women's Ministry
takes on a whole new meaning in these LADIES ONLY sessions designed to empower women of all backgrounds to embrace their unique identity and grow in Christ.
Triumphant Marriage
Triumphant's marriage ministry is designed to build lasting, godly, happy marriages through Biblical teaching, fellowship, faith, fun, inspiration and accountability.
Triumphant Kids
Children are important to the Kingdom of God. While you worship in the sanctuary, your children can be taught the Word of God on their level in a fun environment with peers (ages 5-10).
Triumphant Youth
The youth ministry at TFCC reaches Jr. High and High School Students with the Gospel of Jesus Christ in a relevant, high energy model each Sunday at 11am & Wednesday at 7 p.m.
Ministry to the Military
TFCC is part of the Freedom Outreach Network. Focus for the connection process, the ministry centers are located near military installations worldwide. Part local church and part 'Christian USO,' ministry centers are operated under the aegis of Freedom Outreach International (FOI) to help connect the soldier and his or her dependants with a local family of believers.
Hits: 1937