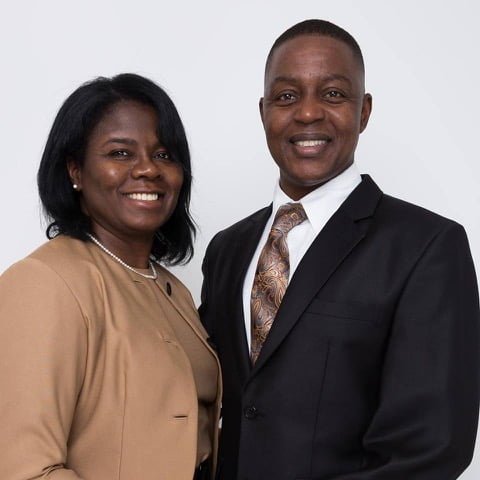 Pastors Charlie and Kathy Bryant
Senior Pastor Charlie Bryant, Jr
Charlie Bryant Jr, a  native of Tallahassee, Florida, has served in ministry for over twenty years. He is the Senior Pastor/Director of Triumphant Family Christian Center in Augusta, GA. He is also a U.S. Army retired Command Sergeant Major with over thirty 30 years of service. He is an Ordained Minister with the Church of God and holds a Bachelor's degree in Social Science from Upper Iowa University and a Master's in Leadership Studies from the University of Texas at El Paso. Charlie is a worshiper who has ministered into the lives of people across the United States, Germany, and South Korea. Serving as the Senior Pastor/Director of Culpepper serviceman center in Seoul, South Korea (2015-2016). Charlie and wife Kathy have been married for thirty years; they reside in Grovetown, Ga. They have three children: Kori, Charles, and Quinicka Ghant.
Pastor Kathy-Harrison Bryant was born in Belle-Glade, Florida and raised in Tallahassee, Florida where she gave her life to the Lord at the sweet age of sixteen and quickly learned that constant prayer is the key to living a Spirit-led life. She also met and married Charlie Bryant Jr. in her beloved Tallahassee. Throughout her travels around the world, Kathy has served the church, reaching out to those yearning to know more about Jesus. While with the Gospel Service at Ft Polk she served as Women's Ministry Leader where she organized women's conferences, was a faithful leader of the local Parish Council and Adult Choir. While in El Paso, Tx she served on the ministry team at Destiny Family Christian Center under the watchful eyes of Bishop Johnson. Pastor and Senior Pastor Charlie Bryant were ordained together by Bishop Edwards at New Life Christian Center in Vilseck, Germany, where she served on Women's and Hospitality Ministry  Team. She then moved on to South Korea with her Family together they Served under Bishop Johnson at  Culpepper Christian serviceman Center (CCSC). And Later Selected as Pastor and Co-Pastor of CCSC until their departure in 2016, Upon returning to Georgia, the Lord laid on their hearts to Plant a Ministry in Augusta in August 2017 they open the doors of 
Triumphant
 Family Christian Center. They are blessed to have two adult children and one teenage son at Grovetown High. She is credentialed under the Church of God (Cleveland Tennessee) as an Exhorters and an Ordained Minister and also holds a Bachelor's degree in Computer Science and a Master's in Education from Troy State University and is currently pursuing a degree in Christian Counseling.
Hits: 243